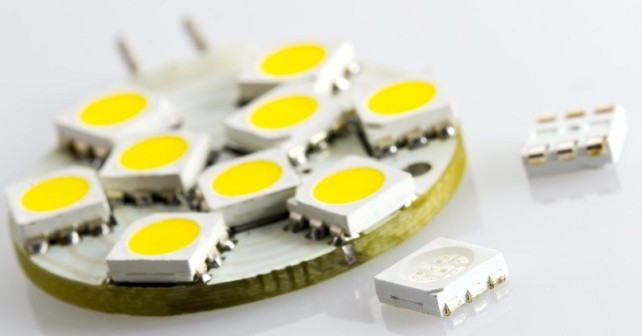 Most machine vision lighting units, these days, make use of high quality LEDs. So, this is a quick look into what they are and how we measure the brightness of them.
What is an LED?
An LED is literally a light-emitting diode. It is made of a semi-conducting material which is doped (other semi-conducting material is added) and emits light of a certain wavelength (colour) when electricity is passed across it.
Different materials produce different colours – from infra-red, through visible light, to ultraviolet – and efficiencies. Like any branch of materials science, particularly semi-conductor research, new materials are being developed all the time, reducing costs and increasing efficiencies.
Delving into the science for a moment will help explain how the device we've described above works.
Firstly, a diode: it is a semi-conductor which allows electricity to flow in only one direction. It is a type of p-n (positive-negative) junction.
All well and good, but why do they emit light? As we've said above, that's down to the materials chosen.
As electrons travel into the junction they are in a "high-energy" state. Inside the junction the electrons meet holes and fall into a lower-energy state. In an LED this excess energy is released as a photon, due to the nature of the materials chosen to form the junction.
The wavelength, and therefore colour, of the photons emitted by the diode are down to the "gap" between the two energy states. This gap is determined by the materials chosen to make up the positive and negative electrodes in the p-n junction.
LED materials include Gallium Arsenide (GaAs), Gallium Nitride (GaN) and Indium-Gallium Nitride (InGaN), often using sapphire as a substrate material.
When is a watt not a watt?
We all know how the old-style incandescent light bulbs are measured in Watts (W). You get a 25W bulb for the bedside lamp because you don't want to be blinded while reading a book, but a 100W bulb for the kitchen means you can catch all the pesky spots of last-night's dinner when doing the washing up. Fair enough.
Then things changed a bit with the introduction of "low-energy" light bulbs (compact fluorescent lamps – CFL) and we had to learn that the bedroom light was now only 6W to do the same job, and our kitchen light was now the 25W one.
Which wasn't at all confusing, oh no.
To add to the overall confusion, LED lights are entering the general market (especially for televisions) as well as being used for industrial purposes like smart camera lighting.
So if the wattage is not directly a measure of the amount of light (luminous flux) we get from a bulb, what is? Answer: the lumen (lm), which is the SI unit for luminous flux.
Our old 100W incandescent bulb, a 25W CFL bulb and a 25W LED, for that matter, would all have a luminosity measured as 1500lm, on average.
Clearly, then, the old bulbs are less efficient than either CFL bulbs or LEDs. Working out the number of lumens for a particular bulb depends on it specific luminous efficiency and the different types have typical ranges, like so:
Luminous efficiency table
| | | |
| --- | --- | --- |
| Light type | Typical efficacy (lm/W) | Average efficiency (lm/W) |
| Incandescent bulb | 12.5-17.5 | 15 |
| CFL bulb | 45-75 | 60 |
| LED | 30-90 | 60 |
This means that, even though lumens and watts are different things, they are related to each other.
This gives us a reasonable way to work out just how bright we can expect a light to be, we can also work out just how much power our LED light is going to draw. The formula for doing this is:
Power (W) = luminous flux (lm) / luminous efficiency (lm/W)
or
W = lm / (lm/W)
Taking our example of a 1500lm LED light, we plug in the numbers:
Power = 1500lm / 60lm/W
Power = 25W
But we also know that depending on the colour and quality of the unit, we could be looking at a range of between 16.7W and 50W.
Although the CFL bulbs have an average efficiency comparable to LEDs, we can see that the range is smaller and in the same example we would still expect a range of between 20W and 33.3W.
Back to business
When dealing with hundreds or thousands of LED units or bulbs, the best quality LEDs can make quite a saving on the running cost.
When you factor in the smaller size for optimal placement, the physical durability of an LED in an industrial setting and the high MTBF (mean time between failure) for LED unit over and bulb-based lighting, it's obvious to see why LED lighting is rapidly gaining popularity.