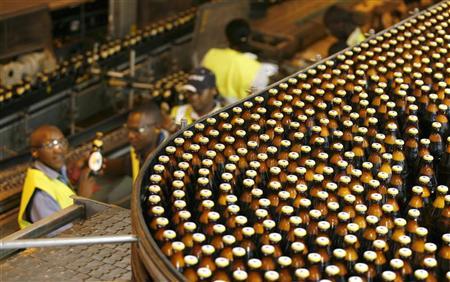 Broken glass is a concern for most, if not all, industries. It is particularly crucial within the food, beverage, cosmetic and pharmaceutical industries where strict regulatory controls are in force.
Additionally, any contamination can be a public relations disaster.
Problem
A camera using only its own inbuilt lighting equipment cannot effectively, nor reliably, locate
pieces of glass. As the basic light and camera are coaxial, you run the risk of "seeing through" the glass and, therefore, of keeping contaminated products or rejecting "clean" ones.
Solution
LED Backlight: If the glassware itself is flawed, the best images may be captured by using a LED backlight (created using LED bar lights and a diffusion plate). Flaws will stand out in contrast to  the surrounding material as either exceptionally bright or dark, depending on the internal reflection of the flaw at the surface.
Direct Inclined Lighting: Depending on the shape of the area to be inspected, using a square or parallel arrangement of LED Bar lights may give the best lighting for detecting glass contamination of a product.
Low Angle: Using a LED ring light set at a low angle to the area under inspection will produce a highly diffuse light which is particularly useful in detecting fragments of, or ground/powdered glass.