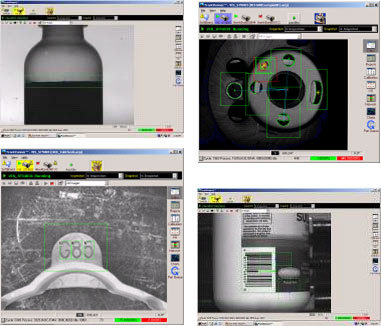 No one working in the machine vision industry would disagree: machine vision is for specialists, it requires experience and know-how. This article is not intended to teach beginners to become experts, but to help those using a smart camera understand and identify the key points of a robust vision application.
A vision application is the task that a vision system performs – it could be inspecting work-pieces for defects, gauging sizes or comparing patterns (and many more). A robust vision application is one that can locate parts with great accuracy, identify all defects or read a code the first time. It ensures that only high quality products are sent to customers.
Creating a robust vision application has 3 steps:
1. Choose the correct lighting direction
2. Choose the best lighting color
3. Control ambient light
Any good vision application needs a defect library, so it can compare the new work-piece to both good and bad examples. However, a comprehensive defect library alone is not enough; to reduce the risks and increase robustness, follow the 3 steps below.
Step 1: Correct lighting direction
What type of artificial lighting will generate the highest contrast for your application? Do you need direct or indirect lighting? Will it be a Dome Light to reduce shine and observe uneven surfaces, or a Low Angle for flat and shiny surfaces? Spend time finding the correct angle and strength of light needed to improve contrast. The best vision software can do nothing if the image captured is poor.
Step 2: Choose the best colour
With a black & white camera, the colour of the lights affects the quality of the image captured. In machine vision, contrast is vital in creating an image suitable for processing and coloured lights can enhance or reduce contrast. The lights in effect act as a filter, lightening any colour that is similar to its own, and darkening other colours.
A red light, for example, would make a red object show as almost white in a picture, and a blue object appears as almost black, as the relevant colours are either transmitted or absorbed.
In comparison a blue light would turn the red object black and the blue object would become white.
For laser engraved markings on metal or plastic, a green light is extremely useful, emphasizing the engraving, whilst muting the material in the background.
Ultraviolet and Infrared lights are growing in popularity to perform very complex vision inspection applications. Ultraviolet is useful for materials that exhibit fluorescence and Infrared for examine the fibres of wood.
For many applications either a red or white light will provide the high contrast needed, but when working with markings, engravings or coloured products, ensure you choose the correct colour light to maximize the contrast.
Step 3: Control Ambient Light
Ambient light refers to any light that is not explicitly provided by the machine vision system for the purpose of image capture. This includes all natural lighting and room lights. To protect the robustness of your vision system, you need to ensure ambient light does not interfere with your system. Putting a cover on your vision system is the simplest way to control ambient light, but it is not always fully effective. You also need a powerful internal light, which can override the effects of any ambient light that may skip through the cover.
I hope this could help smart camera users get the best out of their vision system!
Guillaume Mazeaud
CEO, Lightune.com