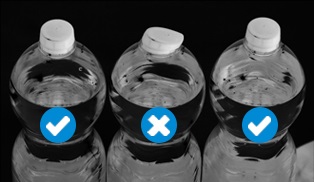 • Reliable defect control is the key of any successful machine vision system.
• Good Lighting will reduce the real/false defect rate.
• The Lightune Modular Lighting System offers simple, effective and affordable lighting solutions.
Using a poorly lit quality control camera will result in defective products passing the inspection process and being sent to customers. Products sold with 'real defects' damage a company's reputation and cause inconvenience for the customer. Equally, inefficient vision systems may also be producing 'false defect' results. This is when flawless products are incorrectly diagnosed with a fault and sent to the scrap heap. This can result in unnecessary financial losses for a manufacturer.
Often, the basic lighting offered by a machine vision system is not sufficient and creates high rates of real/false defects. Each vision application case is unique and the lighting has to be adjusted to meet these individual requirements. This is particularly true of the integrated lighting on smart cameras, which only offer fixed, direct lighting, suitable for a very limited range of vision applications.
Simply adding more lights is not enough; you need flexible, adaptable lighting which can be customized to meet your vision needs.
The Lightune Modular Lighting System gives you the opportunity to fit customized LED lights that perfectly match your vision application, at affordable prices. More than 160 lighting solutions can be assembled, using our modular 'building blocks', giving a solution for any vision application problem.
Thanks to the Lightune modular concept, users can test various lighting configurations themselves and decide which solution delivers the best reduction in the real/false defect rate – reaching efficient quality control.
For a minimal investment, the Lightune Modular Lighting System helps companies improve quality control, protect their reputation and reduce financial losses.